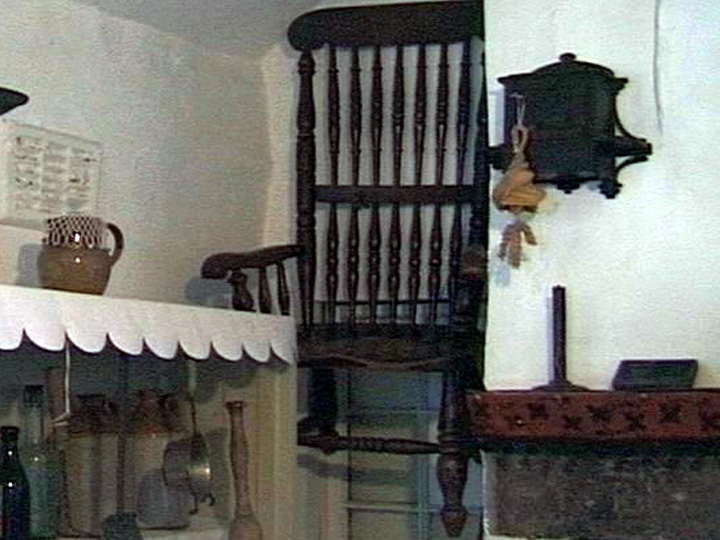 The Chair of Death was the favorite chair of a striper named Thomas Busby. He was on his way to the gallows in 1669 when he put a curse on it, claiming that anyone who sits in it will soon die. It remained in the pub for centuries, and people were dared to sit in it. During World War II, airmen from an nearby base made the pub a hot spot, and the chair a "hot seat" and people noticed that the ones who sat in it would never come back from war. In 1967, two Royal air force pilots sat in it, and while driving back, they crashed into a tree and died. A few years later, two brick layers decided to try it, and that afternoon, the brick layer that sat in it fell to his death. The cursed chair has apparently "killed" every person who sat in it, no matter what. Some instances include: a roofer who sat in it died after the roof he was working on collapsed, and a cleaning woman stumbled into it while mopping, and was later killed by a brain tumor.

Eventually, the pub owner moved it into the basement, hoping that nobody would sit in it. However, one day a delivery man was in the basement and sat in it. An hour later, he crashed his truck and died. After that death, the local museum decided to take it, and to make sure nobody sat in it they hung it five feet from the ground. Recently, the current owner of the pub heard of another death. During World War II, a truck driver picked up two airmen, and they wanted the driver to stop at the pub, and while they were in the bathroom the driver unknowingly sat in the chair. When the airmen didn't return, he left, and when one of them later found him he killed him. It seems, for now, that because it is nearly impossible to be able to sit in it, its "killing" days are over.

For over 300 years, mystery and speculation has surrounded the famous Busby Stoop Chair. Thomas Busby was the original owner of what is now known as the Busby Stoop Inn, which is located in Kirby Wiske, a small village near the town of Thirsk, in North Yorkshire. The death of Busby has been popularly associated with a number of fatalities that occurred later in history, mostly because of the chair itself.

In the year 1702, Busby had a meeting with his father-in-law, Daniel Auty (some historians use the spelling 'Awety'), with whom he had become a partner in petty crime. After a heated argument, Busby returned to the pub to find Auty sitting in his favorite chair. According to the story, Busby, whose reputation as a drunkard was well known throughout the community, ordered Auty to leave, and after a while, went and found him at what was then called Danotty Hall. Here, police say that Busby murdered Auty with a hammer and hid the body in the woods.